🆕 Sweet Molly's Creamery – Broadway – Myrtle Beach, SC
MYRTLE BEACH , SC
Job Description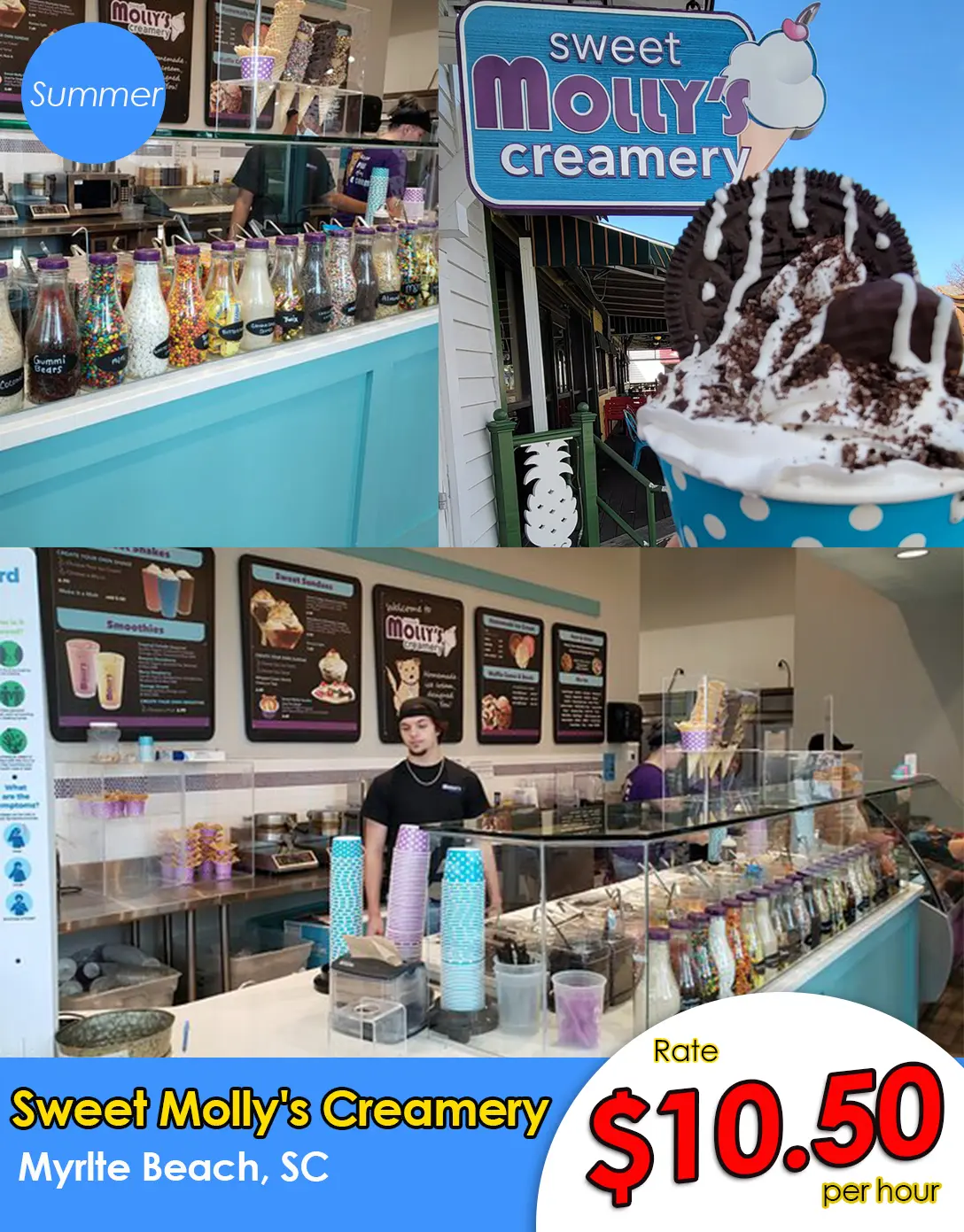 Ice Cream Server : Servers are responsible for taking customer's orders and preparing the desserts. In this position, you will be cross-trained to perform all duties including but not limited to stocking, cleaning, and serving the customers. You will be responsible for learning the menu and understanding ingredients in order to give customers good recommendations if needed.
Position
Ice Cream Server **Tipped Position** (3 M/F)
Location
MYRTLE BEACH , SC
Rate
$10.50/hr + tips
(Meals are not provided, but you do receive a 25% discount)
Hours
32-40 hours per week
Start Date
15 May 2024 – 15 Jun 2024
End Date
5 Sep 2024 – 7 Sep 2024
English level
Upper Intermediate – Advanced
Housing
$125 per week ($115-$150 per week, maybe more/less) MUST ARRANGE
**Deposit $300 per person(Upon arrival)
Transportation to work
On foot or bike, public transportation is available to you as well. Depending on the option depends on how long it will take.
** งานนี้ไม่ต้องชำระค่า Premium Job ใดๆทั้งสิ้นนะคะ และข้อมูลของงานดังกล่าว นายจ้างหรือองค์กรแลกเปลี่ยน USA อาจมีการเปลี่ยนแปลงได้ในภายหลัง โดยขึ้นอยู่กับปัจจัยในด้านธุรกิจของนายจ้างนะคะ โดยบริษัทฯ ไม่สามารถควบคุมการเปลี่ยนแปลงใดๆได้ค่ะ หากมีการเปลี่ยนแปลงใดๆเกิดขึ้นทางพี่ทีมงานจะรีบแจ้งข้อมูลอัพเดตให้ทันทีค่ะ 🙂 C
Related Jobs