Zekes Landing and Marina
Orange Beach , AL Restaurant
Job Description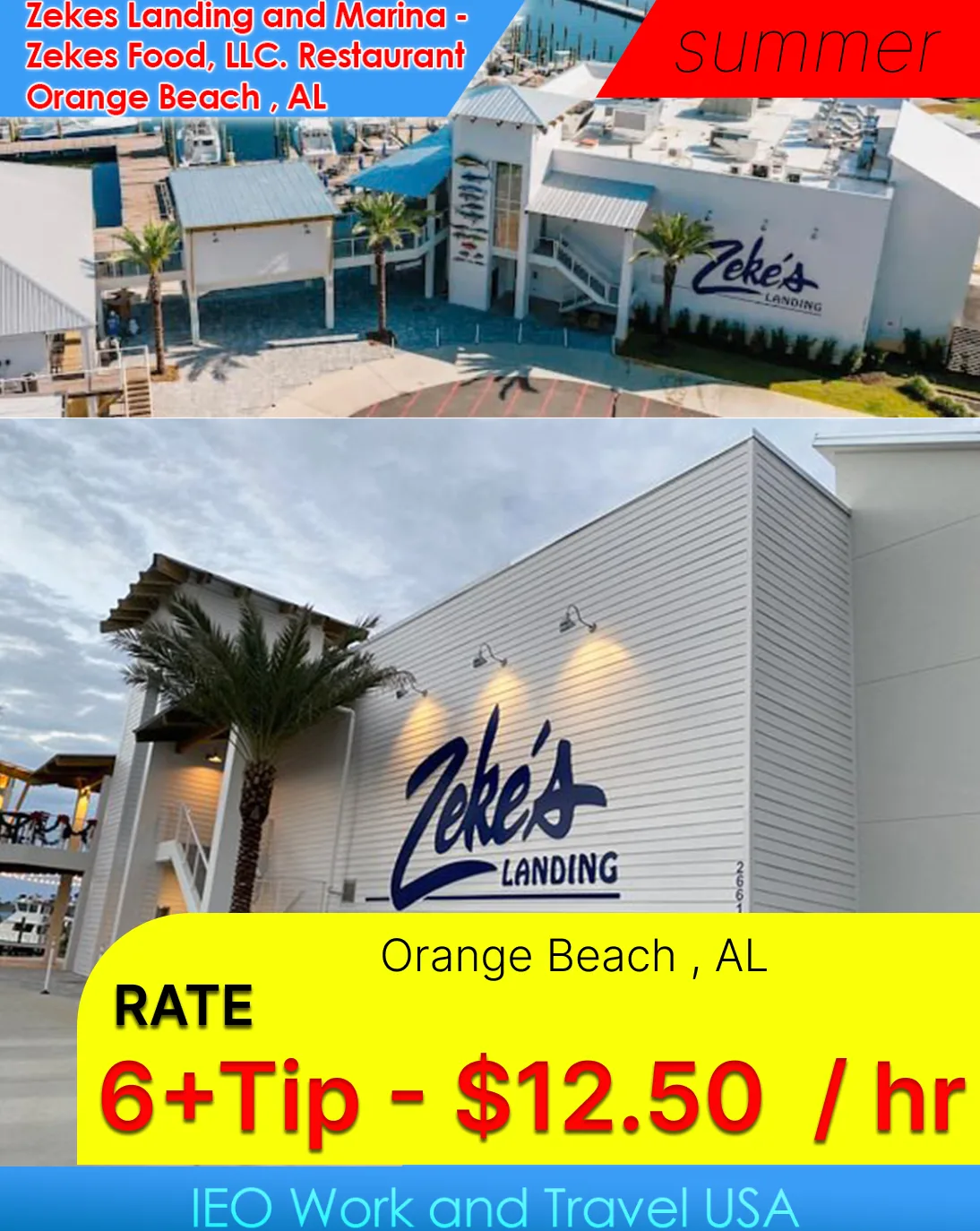 Line Cook, Prep Cook, Dishwasher : Position duties include, but are not limited to: ensures all materials and supplies are available and sets up and stocks station according to established guidelines; ensures all food items are prepared, seasoned, cooked and presented according to established recipes and plating guidelines; ensures all food items presented for use and/or sell meet acceptable quality standards; prepares food in quantities as indicated by management for expected business levels; ensures all products are properly received, stored and maintained in their respective areas by correctly dating, labeling and rotating; monitors product and ingredient levels and notifies management of low inventory; monitors coolers and freezers for proper temperature and reports deficiencies to management in a timely manner; maintains a clean and sanitized workstation and assists in overall kitchen cleanliness, including cleaning all station equipment and utensils during and at the end of each shift. Cleans coolers and freezers. Removes trash and other discarded items from workstation. Relines trash receptacles; adheres to sanitation standards for cleaning products utilized in the kitchen (i.e. sanitizer stations/buckets); monitors and tests dish machine throughout the shift to ensure proper chemical levels and water temperature; presoaks and removes food items prior to washing dishes. Handles tableware and glassware carefully to prevent breakage and loss; loads, runs, and unloads dish machine.
Food Runner/Busser : Ensures a consistent flow of service to guests and servers by efficiently organizing and delivering food to the tables, cleans tables and removes used dishes, ensures the quality of food before leaving the kitchen, delivering food to the correct person at the correct table, and maintaining a clean and organized working environment.
Host : Responsible for greeting customers at the restaurant with a smile, welcoming them into the establishment, seating them, and providing them with a menu. The host or hostess keeps the restaurant orderly, keeps track of wait times, monitors table rotations, answers the phone to take and review reservations, makes sure tables are clean and set up, makes arrangements for special requests, makes sure customers are content, and keeps track of what's going on at each table.
Position
Line Cook, Prep Cook, Dishwasher
start 7 May (1 M/F)
start 21 May (1 M/F)
start 2 Jun (1 M/F)
Food Runner, Busser, Host
start 7 May (5 M/F)
start 21 May (5 M/F)
start 2 Jun (10 M/F)
Location
Orange Beach , AL
Rate
Line Cook, Prep Cook, Dishwasher $12.50 per hour
Food Runner/Busser $6.00 per hour plus tips to equal $12 per hour; Host is $12.50 per hour
Hours
32-40 hours per week
Start Date – End Date
Start 7 May 2024 – 13 May 2024
End 17 Aug 2024 – 30 Aug 2024 (*not arrive between May 14 – May 20*)
Start 21 May 2024 – 1 Jun 2024
End 19 Aug 2024 – 31 Aug 2024 (*not arrive between May 14 – May 20*)
Start 2 Jun 2024 – 15 Jun 2024
End 3 Sep 2024 – 7 Sep 2024 (*not arrive between May 14 – May 20*)
English level
Intermediate – Advanced (Participants should speak very good English, have a positive attitude, and be a hard worker.)
Housing
150 USD per person / per week
Deposit Amount $150
*$6.00 per hour plus tips to equal $12 per hour; Host is $12.50 per hour
Transportation to work
Employer arranged shuttle $0 to walk; $0 for employer arranged shuttle
** งานนี้ไม่ต้องชำระค่า Premium Job ใดๆทั้งสิ้นนะคะ และข้อมูลของงานดังกล่าว นายจ้างหรือองค์กรแลกเปลี่ยน USA อาจมีการเปลี่ยนแปลงได้ในภายหลัง โดยขึ้นอยู่กับปัจจัยในด้านธุรกิจของนายจ้างนะคะ โดยบริษัทฯ ไม่สามารถควบคุมการเปลี่ยนแปลงใดๆได้ค่ะ หากมีการเปลี่ยนแปลงใดๆเกิดขึ้นทางพี่ทีมงานจะรีบแจ้งข้อมูลอัพเดตให้ทันทีค่ะ 🙂 S
Related Jobs